Proposals 101: How to Pop the Question
Getting down on one knee and proposing to your partner can be a daunting experience – and finding a romantic way to do this is something you might be struggling with. From the moment you decide to take things to the next level, you're making a life-long commitment. Knowing how to pop the question will help make this occasion a memorable one.
However, having a dramatic and theatrical masterpiece of a proposal isn't for everyone. For some, a more low-key and simple proposal will be preferred. With this in mind, we provide some of our best tips on how to propose. We will also answer all the other questions you have before getting down on one knee to ask the big one!
How to plan a proposal?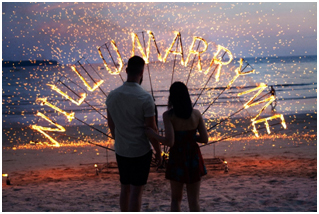 Before rushing into proposing, the first step is to piece together a plan for how you will do this in a romantic and special way that your partner will appreciate.
For those that prefer to keep things traditional, asking their partner's parents for their blessing is a good place to start. That way, you have the go-ahead to continue planning the proposal. However, since the traditional idea of a man asking for permission from his girlfriend's father to propose is less common nowadays, this first step isn't essential, and it all depends on how your partner feels about this gesture.
The next step is to think of the ultimate proposal location. This can be something that already has sentimental meaning to you and your partner, or it could be somewhere entirely new you are both seeing for the first time together – wherever it is, picking the ideal place to set the scene is a thoughtful gesture your partner will appreciate.
The next step is to pick the ring. Although some people choose to pick the ring after the official proposal, if you prefer to keep things traditional and want a gorgeous new piece of jewellery to help you pop the question, then now is the time to start searching.
And finally, add a personalised twist. While the Eiffel Tower is iconic for being the ultimate proposal location, make sure that there is something unique about your proposal so that it makes for a truly unforgettable moment.
How to propose to my girlfriend or boyfriend
Perhaps you have a holiday coming up and want to plan a romantic picnic on the beach to pop the question. Maybe you want to take things back to the start and book the restaurant you had your first date at to set the scene. Wherever it is, the location and the meaning behind it is what will provide the romantic atmosphere your proposal needs.
Once you've decided on a location, you'll need ideas on how to propose. It can be as simple or as spectacular as you want it to be. For example, you could do something as simple as organising a trip to a caricaturist and asking them to write "Will you marry me?" in a speech bubble along with a cartoon drawing of you proposing. Or you could go as far as planning a whole treasure hunt where the 'X' mark is where you will be waiting on one knee.
For those that prefer something more private rather than public, however, there are some adorable ways you can create the ultimate proposal scene at home. For example, you could choose a day where your partner is out of the house for a few hours and convert one of your rooms into the perfect proposal display. Using candles, photos of the two of you, romantic signs, a trail of rose petals, and balloons, you can create the perfect backdrop for them to come home to and find you waiting ready with a ring.
For those foodies out there, why not find a way to combine your love of food with the love you have for your partner? Another romantic way to propose could be to go to your favourite bakery and have them customise a cake with the all-important four words written on it and have it displayed in the window of the shop for when you walk in. Delicious and adorable!
How to get him to propose
Are you looking for a subtle way to drop hints? If you know for sure that both you and your partner are ready to take things to the next step but think they are hesitant to propose in case you say no, drop subtle hints that you are ready!
You could do this by finding a discreet way to bring marriage into a conversation whenever the opportunity arises. This could be when discussing your future plans, for example – make it clear that your partner is very much a part of your vision for what lies ahead! This is a perfect way to reassure them that you're ready to make the ultimate commitment.
On the other hand, why wait for them to make the first move? Be bold and beat them to it!
How to propose without a ring?
If your partner is particularly fussy with their jewellery preferences, picking an engagement ring for them that might not be their style is a risk you don't want to take. The good thing is that proposing without a ring is normal, and it gives them the chance to pick the ring for themselves at a later date.
So, as a thoughtful substitute for a ring, you could present just the ring box to your partner. This way, it still shows you have thought carefully about the best way to propose while still giving them the freedom to choose the engagement ring they prefer – it's a win-win!
If you're looking for a sentimental proposal gift, then propose with a memento instead. This could be anything that holds great meaning to both of you, including the cinema ticket from your first date, or the first bill at a restaurant, or the mini-golf scorecard you filled in together.
Which knee do I propose on?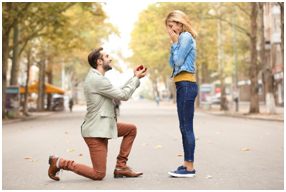 There is no set-in-stone answer as to which knee it should be. Typically speaking, however, putting your left knee on the ground while holding the engagement ring box in your left hand and opening it with your right is how to do it.
Are you still searching for the perfect engagement ring to assist you with your proposal? We have a stunning array of engagement rings that vary in style and design depending on your partner's preference, whether it be halo engagement rings, yellow gold engagement rings, or solitaire engagement rings.
There you have it! Our guide to popping the question. To help make your moment as smooth as possible, take note of our advice and think carefully about how you wish to pop the question and what you will say when the moment comes. Good luck!