Your Guide to Effectively Cleaning Diamond Rings
What is more striking than walking around with a glistening diamond ring on your finger? We all want to take care of our jewellery pieces – especially when it comes to those diamond rings we've paid that little bit extra for. When going about our everyday routine, rings inevitably build up all kinds of oils and residue, causing their sparkle to be dimmed – especially since we've all been upping the amount of hand sanitiser we're using in recent months. Although this helps to protect your diamond rings against bacteria, it can cause the diamond stones to loosen and breakdown in the long-term due to the harsh chemicals it contains.
Opting to go to a professional to clean your rings every now and then is something they will benefit from, but learning how to regularly clean them yourself at home will help them maintain their shine.
So, before you start a lengthy cleaning process to clean your rings, it's important to know how to clean them correctly and the type of products that are involved. With this said, we have created an easy-to-follow guide on how to effectively clean diamond rings. Take notes!
How do I clean my diamond rings at home?
Cleaning your diamond rings doesn't have to be a long and complicated process. In fact, it is recommended that cleaning them once a week is all that is required.
From marquise diamond rings to princess diamond rings, here are our top tips on how to make your diamond rings sparkle.
Tip 1: Purchase a toothbrush?
Although this is a surprising first step, a toothbrush, ideally a baby toothbrush or one with soft bristles, is the best tool to use. Unlike a larger and firmer surface pad, toothbrushes are the best way to get into all the small cracks and crevices of the diamonds but without causing any damage or chipping.
As for the drying process, make sure to use a soft cloth and gently polish it over the ring.
Tip 2: Choose your cleaning products carefully
Despite having the best intentions to give your diamond rings a thorough and effective clean, choosing the wrong products could cause more harm than good. So, keep things simple and use washing up liquid and hot soapy water as your cleaning product of choice.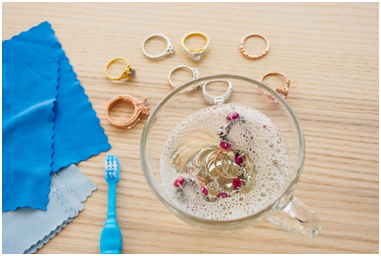 Although the internet is bursting with clever diamond-cleaning hacks, there are some definite ones to avoid. These include toothpaste, acetone, baking powder, and any products that are designed for household cleaning use.
Tip 3: Leave to soak
To make sure your diamond rings get a thorough clean, leave them to soak between 20 and 40 minutes to allow for any dirt or cosmetic build-up to gradually wilt away.
Tip 4: Give your diamond ring a break?
When it comes to engagement rings or wedding rings, it's common for these to be worn at all times. However, there are some circumstances where taking them off can help maintain their shine in the long term.
If you prefer to always wear it during the day, putting it aside when you sleep will help stop the constant build-up of skin getting between the settings. Furthermore, removing it when you're in the shower will prevent the ring from being exposed to harsh chemicals from soap and other skincare products.
Tip 5: Be wary of ultrasonic cleaners
Ultrasonic cleaners are a great way to remove dirt that has been encrusted onto diamonds.
However, it's important to know when this is necessary and when this isn't. If the diamonds on your ring include feathers or have previously been fractured and now include fillings, it's best to avoid an ultrasonic cleaner. Although the low-frequency sound waves that travel through the solution help shake off any thick dirt build-up, the vibrations can cause the diamonds to become loose or chip if they are set next to each other. For the likes of three-stone rings for example, where the diamonds are diligently placed next to each other, ultrasonic cleaners may not be a wise choice when it comes to keeping them clean.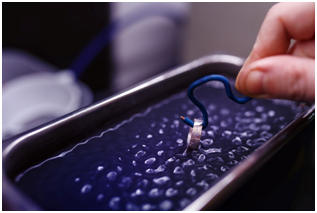 How do I clean white gold rings with diamonds?
As for white gold rings, it can be difficult to maintain their appearance due to them being made with a combination of both yellow and white metals. They also tend to be covered with rhodium to help disguise the yellowish colour of the metal, so there are more factors to consider with these than the likes of platinum rings.
The same cleaning tips mentioned above should be followed for white gold rings. However, adding a few drops of ammonia to the soapy water can help achieve that extra shine. Also, make sure to thoroughly rinse the white gold ring once it has been left to soak. This will ensure that no soap dries on the diamonds.
Keeping your diamond rings in the remarkable condition they were purchased in doesn't have to be a challenge. All you need is the correct cleaning products and some top tips on how to carry out this process effectively.