How to find out someone's ring size without asking them
You've planned the most romantic proposal, but now the problem is you don't know what size diamond engagement ring to get. You don't want to ruin the surprise by asking them outright, and discretion is important — follow the advice below to find out how to find out someone's ring size without asking them for a surprise proposal with the perfect fit.
1. Investigate their jewellery box
You might have to do some light detective work to try and find out the right ring size. They likely have an existing ring they wear on their middle finger or ring finger of their right hand. You can either take it to a jeweller to get it professionally measured. Or, if you think your partner would notice that it's missing, you could buy a ring sizer tool yourself to measure, or trace the inside of the ring on some paper and take it to a jeweller for their professional opinion.
Just remember, if you're not 100% confident in your measurements using a ring sizer, then go up a size rather than down. This is because it's easier to resize an engagement ring that is too big rather than too small.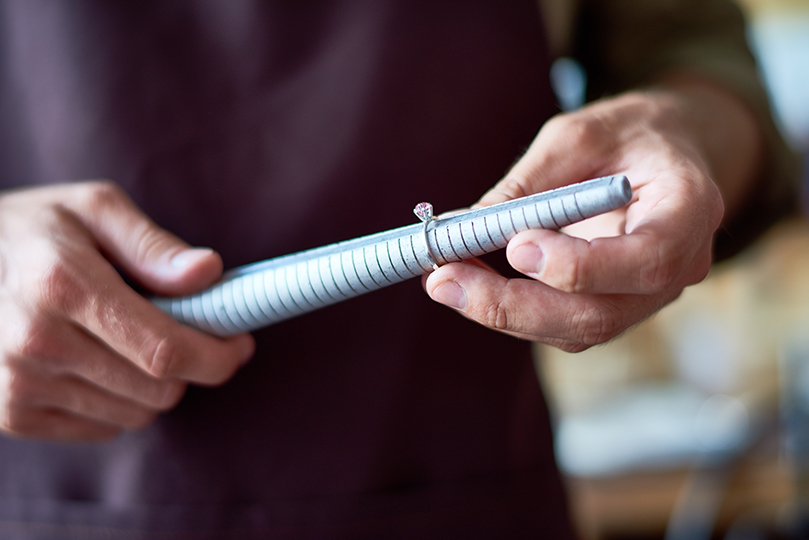 2. Use our printable ring size guide
If your partner removes their jewellery before doing certain things like going to bed, getting in the shower, or exercising, you could use our printable ring size guide to determine which ring size you should buy.
Simply print off our guide and make sure that your page scaling settings are set to 'none' so that the sizing is accurate. Place the ring over the circles and match the diameter of your ring to that of the circles on the page. If the ring size is between sizes, take measurements from the larger circle.
3. Use the most popular ring size for men and women
If your partner doesn't have rings for you to examine, consider buying the average ring size.
For women, the average ring size is UK and Australian ring size 'M', which is 52.5 in Europe, and 6.25 in U.S. and Canada sizing.
For men, 'T' is the average ring size in the UK and Australia, which is 62 in Europe, and 10 in U.S. and Canada.
For a complete size guide, visit our ring size chart.
4. Ask friends and family
While discretion is important, there's no harm in asking your partner's friends and family. They might have bought jewellery for them before or could give you an educated guess. Just make sure you ask people who you trust to keep your secret.
Better yet, if someone close to them recently got engaged, you can use this as an opportunity to have them discuss ring sizes with your partner and report back to you.
5. Buy your partner another ring
Why don't you consider buying your partner a cheaper ring to wear on the middle finger or ring finger of their other hand? While you still may not get their exact ring size, it will give you something to work with and an idea of how big their fingers are.
If you choose a ring that doesn't fit, don't panic! Angelic Diamonds will replace your engagement ring at no extra cost for one that is perfectly matched to your other half with our ring resizing service.