Everybody Hertz: The Sound of Love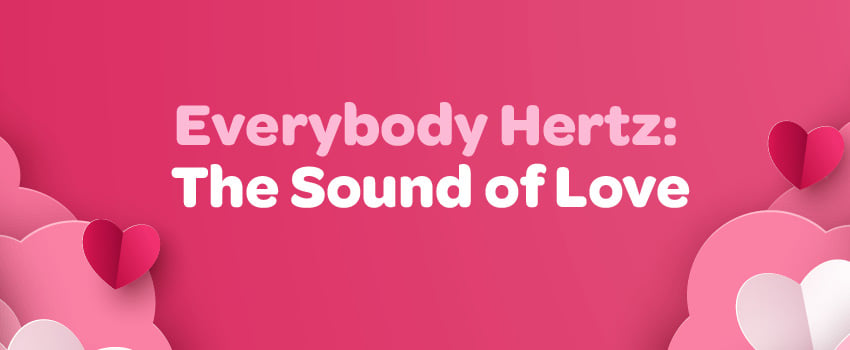 Love isn't just a feeling or an emotion that you may have towards someone – it's a chemical reaction. When you are attracted to someone or are falling in love with them, there are a number of brain chemicals that are released that help to facilitate this feeling.
Different sound frequencies can influence brain chemicals
The brain is made up of neurons, which are different cells that interact with each other to transmit information. When we listen to certain hertz (Hz), activity in the brain matches that frequency, essentially 'hacking' it into a desired mental state. There are different ranges of Hz that release several hormones associated with love and attraction:
Oxytocin: 528 Hz
Dopamine and serotonin: 10 Hz
Endorphins: 2 Hz
Norepinephrine: 5-10 Hz
Oxytocin, dopamine, serotonin, and norepinephrine are love hormones that we can trigger with sound
According to psychological research, oxytocin helps us bond with people and is released when we fall in love, have sex, and breastfeed, earning it the name: "love hormone". Dopamine, serotonin, endorphins, and norepinephrine are also released during attraction – these happy hormones are what give us a surge of positive emotion and make us feel giddy and euphoric.
Listen to the sound of love, according to science
We created a sound using these frequencies that trigger love hormones so you can experience the sound of love – or try to heal your heartbreak. We hope that when you listen to this song, you feel just as good as we do. Try listening to it before a first date to tune your brain into the perfect state – or send it to somebody you care about to express your love for them.
Over half of Brits say they have experienced true love
True love is defined as an emotional and physical romantic connection with somebody which fulfils your every need. We conducted a survey of 2,731 people to find out how many people have experienced true love. 55% of Brits answered that they have, compared to 28% who said they don't know, and 17% who answered no. Over a third (36%) of those who have experienced true love are in love with their current partner, whereas 14% said they loved someone they are no longer with.
According to Statista, there are nearly 280 million online users of dating apps forecast for 2024 – however, according to a psychological article in Psychology Today, dating apps are making it harder for budding romantics to find love. With too many options, idealising people we are judging virtually with limited information, and dishonesty on dating profiles, fewer people find meaningful connections as easily.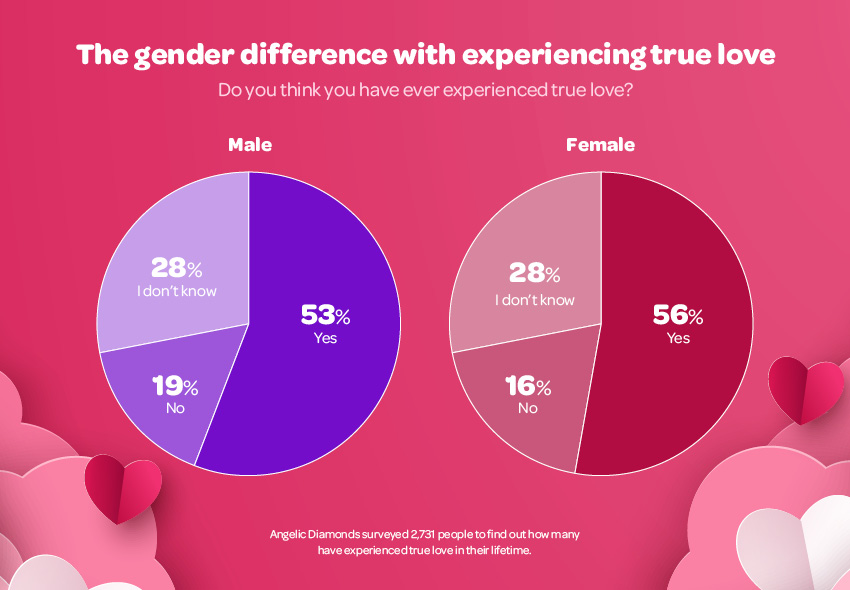 More women have experienced true love than men
Over half (56%) of women answered that they have experienced true love in comparison to 53% of men. Interestingly, 28% of both men and women don't know if they've ever experienced true love, and only 3% and 5% of women and men have fallen in love with every partner, respectively.
41% of those over 65s are in love with their current partner compared to 32% of 35-44s
Adults aged 65 and over had the highest response rate for being in love with their current partner (41%). This was followed closely by 45-54s (39%) and 55-64s (37%), whereas 18-24s had the lowest percentage (26%) who answered they are in love with their current partner.
The average age of marriage in England has risen from 27 in 1972 to 38 in 2019, with more and more people finding love later in life as they focus on their careers and independence.
When asked if respondents had ever experienced true love, the most popular answer for 18-24s was I don't know at 33%. Younger demographics are placing less emphasis on starting a family earlier than in previous decades which could explain the differences in answers between age groups.
People were trying to create true love thousands of years ago
According to Google Trends, searches for "how to find love" increased 614% from October 2021 to 2022. Many people are turning towards intentional dating, which is where daters state what their dating goals are to avoid those looking for hookups and no strings attached relationships. But this isn't the first time we've made something to help us find true love.
Throughout human history, people have tried to inspire or conjure love in many different ways. Those living in Ancient civilisations around 2,300 to 5,000 years ago experienced heartbreak and failed romances just like we do today. These common problems were attempted to be remedied through love magic which uses spells, magical rituals, and often a special ingredient. For example, spells have been found from Ancient Egypt advising the individual to mix a piece of their fingernail, blood, and apple seed together and drink it.
Surprisingly, even today searches for "how to make love potions" has over 170 monthly searches on Google.
Manifesting
Over the last few years, manifesting has surged in popularity, particularly over social media apps like TikTok. #Manifestation has 22.2 billion views on TikTok followed by #manifest with 10.3 billion. Manifesting comes from the Law of Attraction, which is the belief that positive or negative thoughts will bring positive or negative experiences. A quick search on Google shows article upon article on a few simple steps to manifest true love.
There is less blood, magic, and spells in this method, but more so visualising what you want and acting and behaving as if you have already found it.
The two most common words in the top 50 love songs are 'you' and 'I'
Typically, when we think of love songs, we might imagine popular songs like All of Me by John Legend or Someone You Loved by Lewis Capaldi, both with memorable lyrics focused on expressing love through romantic and emotional lyrics.
We analysed 50 of the most popular love songs from the top tracks of 973 love song playlists on Spotify, made up of 115,620 tracks. According to our research, 'you' and 'I' are the two most popular words across all love songs, with word counts of 1,590 and 1,427, respectively. This suggests that lots of songs are talking about each other's feelings rather than from one perspective, making them selfless.
'Time' was mentioned 103 times which may suggest we are mostly concerned with how long we will be with our true loves and are worrying about it being cut short due to a relationship breakdown. This was followed by 'life' with 53 mentions, 'forever' with 41, 'alone' with 40, and 'hurt' with 40.
Many affectionate words are also used, such as 'kiss' (55 mentions), 'hold' (42), and 'darling' (35).
Top 10 love songs from public Spotify love playlists
| | | |
| --- | --- | --- |
| RANK | TITLE | ARTIST |
| 1 | All of Me | John Legend |
| 2 | Say You Won't Let Go | James Arthur |
| 3 | Right Here Waiting | Richard Marx |
| 4 | Sweater Weather | The Neighbourhood |
| 5 | Thinking Out Loud | Ed Sheeran |
| 6 | Yellow | Coldplay |
| 7 | we fell in love in october | girl in red |
| 8 | Always Forever | Cults |
| 9 | Sparks | Coldplay |
| 10 | Another Love | Tom Odell |
We think our love frequency sound is much easier – why not give it a try?
If you've found your true love and want to pop the question, browse our range of engagement rings and wedding rings.
Methodology
We used the following research to find the Hz associated with the release of love hormones: