It would take 1,303 years to save for this celebrity's most expensive engagement ring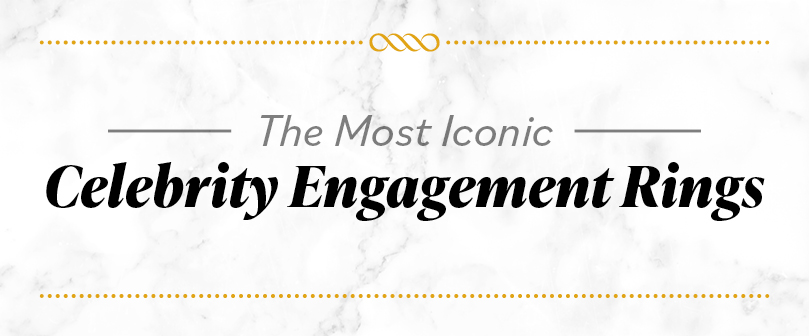 When a celebrity gets engaged, there is usually a public announcement, some emotional Instagram photos, and the big reveal of a jaw-dropping six-figure engagement ring we could only dream of having.
Will it be a 35-carat bombshell like Mariah Carey's, an understated yet elegant piece like Julia Stiles', or will it have the public in a chokehold like Megan Fox's controversial engagement ring that is painful to remove?
We've compiled a list of 50 iconic celebrity engagement rings over the years and looked into the central stone, carat, shape, and estimated value. We then calculated the length of time it would take to save for these sparklers while earning the average UK salary according to jewellery expert Neil Dutta, managing director of Angelic Diamonds.
How long it would take the average Brit to save for a celebrity engagement ring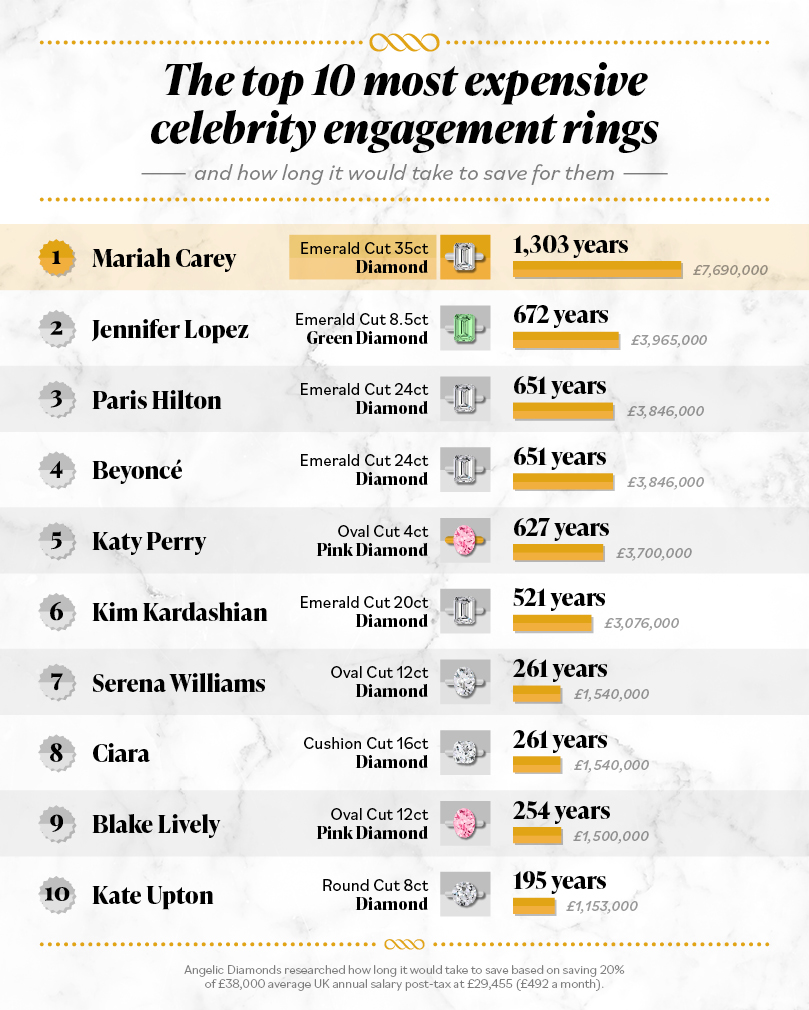 The most expensive celebrity ring was undoubtedly Mariah Carey's 35-carat emerald-cut diamond which was framed with small, tapered baguettes on either side. This ring is valued at around £7.69m, translating to a cool $10m.
Paris Hilton's and Beyonce?'s rings were the second most expensive on the list, which are both 24-carat emerald-cut diamond rings. Paris was proposed to by Carter Reum in 2021 with a ring that features two shield-cut diamonds on either side in a tension setting as well as small pavé diamonds, creating even more sparkle for the £3.8m ring.
Beyonce?'s ring has a similar design from back in 2008 with a pavé split shank setting. A slightly more simplistic style, it is still as extravagant as we'd expect an award-winning musician to wear.
10 humble celebrity rings you could save up for
There are some celebrities who have donned engagement rings worth less than £100,000 – and while they still come with a hefty price tag, they are much cheaper than many others in the public eye.
One of the most unique celebrity engagement rings belongs to Emma Stone. Rather than a central diamond, this ring features an 8mm Akoya pearl from Japan and 0.37-carat diamonds surrounding it on a delicate band. Worth around £3,678, the winter pearl ring is an elegant personal piece for a couple who keeps their private lives private.
Are pears the diamond shape of 2022?
2022 has seen the pear shape become increasingly popular, with Megan Fox and Adele donning pear engagement rings, making headlines and setting the trend for the year. A diamond shape that was not often seen on the hands of the everyday engaged partner has become increasingly popular and is definitely back in trend. In fact, our sales data shows a 288% increase in sales of pear diamond rings since 2018.
As well as being popularised by those in the limelight, the pear shape makes the diamond appear larger than what the carat weight actually is. Plus, this shape makes stacking rings easy, which is ideal when wearing a wedding band, too.
Round is the most popular celebrity diamond shape
Round-cut is the most popular of the 50 celebrities we analysed, which is also a very common option for jewellery in the general public.
Round diamonds are certainly the most popular out of all diamond shapes because of how well they reflect light and brightness with their 58 facets. This is a more timeless and versatile shape and is featured in Kourtney Kardashian's, Britney Spears', Perrie Edwards', and Mila Kunis' engagement rings.
Round-cut ring sales have soared by 344% in recent years
It seems that the general public follows celebrity ring trends too, as our sales database revealed that 60% of diamond rings we have sold are round-cut, which has grown by 344% since 2018.
Emerald-cut diamond rings have risen in sales by 333% since 2018
The emerald shape is rectangular yet has 57 facets, similar to the round diamond, allowing it to sparkle in a different way. This elongated and elegant shape is ideal for those looking for something a bit more different to the norm and is worn on the engagement rings of Mariah Carey, Paris Hilton, Beyonce?, Kim Kardashian, Jennifer Lopez, Jennifer Aniston, and Angelina Jolie.
Sales of our emerald-cut diamond rings have risen by 333% since 2018. Since Jennifer Lopez got engaged in 2019 with a massive emerald-cut sparkler, we are seeing more and more of them worn today.
Serial fiancés and their expensive engagement collections
In our list, a few celebrities have been engaged and married more than once, which means they have had more than one priceless engagement ring. But exactly how much was their entire engagement ring collection worth at the time, and where can we find fiancés like this?
1. Paris Hilton's engagement rings total at least £9.2 million
The iconic American socialite has been engaged four times in total, with her most expensive piece being her current emerald-cut diamond ring at £3.8m from Carter Reum. As well as velour tracksuits and tiny chihuahuas, in 2018 Paris also had a £1.52m pear-shaped ring which was inspired by a ring belonging to her mother, Kathy Hilton.
In 2005, Paris Hilton was also engaged with a £3.8m 24-carat yellow diamond ring from fiancé Paris Latsis, however, this lasted six months.
2. Victoria Beckham reportedly has 15 engagement rings worth £9m
While being married for over two decades to footballer husband David, Victoria reportedly has acquired 15 engagements during their one marriage. When they got engaged in 1998, fashion icon VB was proposed to with a marquise-cut diamond, however, since then she has been spotted with even more extravagant pieces on her engagement finger ever since.
Her most expensive one yet is a huge 17-carat pear-cut diamond ring gifted to her in 2005 and is valued at an estimated £2 million. Additions to her collection include a square-cut yellow diamond, eternity rings, an oval-cut red ruby, and an eye-watering big sapphire ring.
3. JLo has had 6 engagement rings worth over £8m
JLo has owned some staggeringly beautiful jewels in her day, which includes six striking engagement rings.
Her most notable pieces are both engagement rings from Ben Affleck – the couple were first engaged in 2002 with a £2m 6.1-carat pink radiant-cut diamond ring which is thought to be worth over £9.2m today. The ring set off a trend toward coloured diamonds, resulting in an increase in the value of pink diamonds, a previously unpopular choice. The pair called it quits before rekindling in 2021 and getting engaged again this year with a £3.2m emerald-cut green diamond, one of the rarest diamonds available and JLo's lucky colour.
Green diamonds are incredibly rare because of how they are formed – exposure to radiation from uranium near the earth's surface causes the diamond to turn this colour. But don't worry, they're safe to wear!
Ben Affleck has spent over £6.4m on engagement rings
According to our analysis of engagement rings male celebrities have proposed with, Ben Affleck has spent the most on engagement rings with around £6,448,000 spent. This is much more than both Ryan Reynolds and Brad Pitt who have also been engaged 3 times.
This total would take the average person around 1,092 years to save up for this by saving 20% of their annual salary each month.