The most iconic jewels owned by the British royal family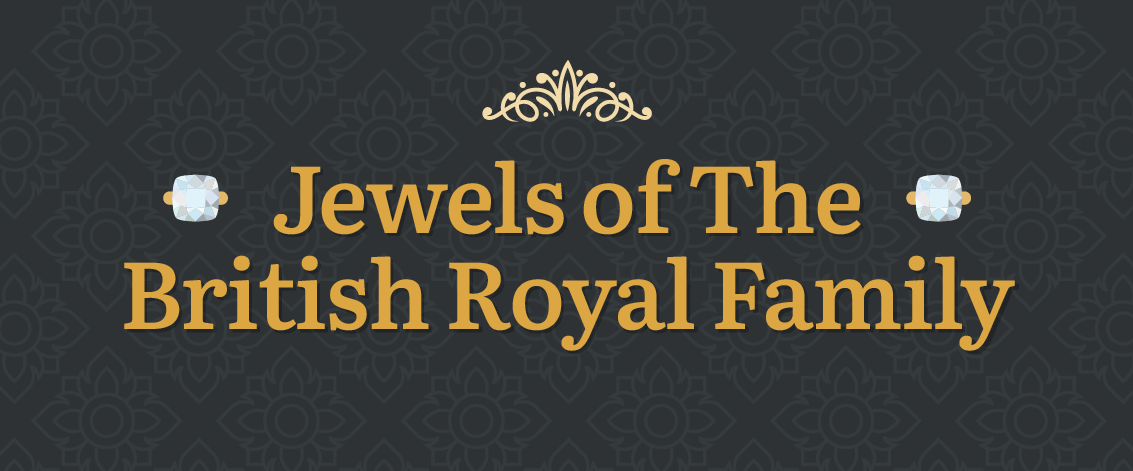 Whether you love them or hate them, the British royal family have a fantastic and historic jewellery box that we could only dream of owning. Kings and queens of England have owned and passed down an astonishing collection of crowns, tiaras, engagement rings, necklaces, earrings, and bracelets worth millions – everything you could dream of and more.
But the big question is, who has the most iconic and lusted after jewellery collection in the British royal family? Here, we take a look at Google monthly search volume around the royal family's jewellery to see who is the most famed for their accessories.
Ranked: the most iconic royal engagement rings
1. Kate Middleton
Duchess of Cambridge
Searches for Kate Middleton's jewellery was the highest, with a total of 9,120 monthly searches for her pieces of jewellery by the British public. The Duchess of Cambridge's style has always exceeded our fashion expectations, and this includes her jewellery too.
Kate's engagement ring
The duchess' engagement ring could be the most iconic piece in her collection – a 12-carat oval sapphire surrounded by a halo of 14 solitaire diamonds. This beautiful white gold ring dates back to the 19th century and was once owned by Prince William's late mother, Princess Diana.
For centuries, sapphires have been highly regarded and favoured in the jewellery of British royals. Prince Albert had a sapphire and diamond brooch made for Queen Victoria which she cherished and has earned its place as a crown heirloom, often worn by our current Queen. Prince Charles was inspired by the brooch's design and proposed to Princess Diana a similar style sapphire ring.
While the ring at the time was controversial as it was a stock piece and not a bespoke design, meaning anyone who could afford it could own one, it has now become one of the most iconic and treasured rings by the two princes.
Price tag: £400,000

2. Duchess of Sussex
Meghan Markle
The Duchess of Sussex falls in second place for having the most iconic royal jewels with 7,230 monthly searches for her jewellery collection. When Kate and Meghan married into the royal family, they inherited jewellery from Princess Diana's collection, including priceless bracelets and watches. They are often seen wearing this jewellery to honour the late princess' memory.
Meghan's engagement ring
The duchess' engagement ring was the most searched for piece in her jewellery collection. A yellow gold ring composed of two round diamonds estimated at being worth under a carat each (taken from Princess Di's jewellery) and one three-carat cushion-cut central diamond from Botswana, where the pair shared a holiday early in their relationship. In total, the ring is worth 5 carats.
A three-stone ring, also known as a trilogy ring, is symbolic as each stone represents the past, present, and future. Prince Harry designed the ring himself, incorporating a deep meaning behind it.
Price tag: £300,000

3. Queen Elizabeth II
Despite being head of the royal family, Queen Elizabeth II only ranked third with a total of 3,370 monthly searches for her jewellery. The biggest search was for her overall jewellery collection compared to Kate and Meghan's being their engagement rings – this isn't surprising given the impressive and priceless collection she owns that has been passed down from monarch to monarch. We look further into iconic pieces of jewellery owned by the royal family further down.
The queen's engagement ring
As expected, Queen Elizabeth's engagement ring has a historical meaning. The late Duke of Edinburgh used diamonds from a tiara belonging to his mother, Princess Alice of Battenberg – a 3 carat round solitaire diamond flanked by 10 smaller pavé diamonds set into a platinum band.
The remaining diamonds from the tiara were also used for a bracelet for Philip's future bride.
Price tag: £200,000

4. Zara Tindall
Daughter of Princess Anne, Zara was ranked ninth for monthly searches for royal jewellery with 90. Despite being the granddaughter of the queen, Princess Anne chose not to give her daughter a royal title so she could live a normal childhood, which may contribute to why the family member had fewer searches.
Zara's engagement ring
Zara's engagement ring was her most popular search, fiancé Michael Tindall considered his wife's sporting career when designing the ring and chose a platinum band with a split shank of pavé set diamonds and a single 5 carat round solitaire diamond. The style of the ring meant that Zara wouldn't have to remove it when competing in equestrian tournaments. Zara's engagement band is platinum, giving a modern yet timeless feel.
Price tag: £130,000

5. Countess of Wessex
Sophie Helen Rhys-Jones
Married to the queen's youngest son, Prince Edward, Sophie came fourth with the most iconic jewellery collection and 920 monthly searches.
Countess Sophie's engagement ring
In her proposal, the countess was presented with a beautiful 2-carat central oval diamond that is shouldered by two smaller, heart-shaped diamonds by Prince Edward. The white gold trilogy ring was crafted by the same jewellers that designed Princess Diana's iconic sapphire engagement ring that now belongs to Kate Middleton.
Price tag: £110,000

6. Princess Beatrice
Sister of Eugenie, Princess Beatrice had 370 monthly searches and fell seventh place out of her family.
Princess Beatrice's engagement ring
The princess' engagement ring was the most popular jewellery piece of the royal, an eye-catching 3.5 carat round-cut diamond with tapered baguettes on either side. Small pavé diamonds line the platinum band halfway so that it is comfortable for her to wear.
Price tag: £110,000

7. Duchess of Cornwall
Camilla Parker Bowles
Heir apparent to the British throne, Prince Charles' wife Camilla came eighth place in the royal family for UK jewellery searches with 170 each month.
The duchess' engagement ring
Her platinum engagement ring was the most popular search in her collection. The duchess was proposed to with a precious royal family heirloom, a 5 carat emerald-cut central diamond with baguettes on either side. While the ring was seen donned by the Queen Mother in the 1980s, it was not her engagement ring and it is unclear who owned it before that.
Price tag: £90,000

8. Princess Eugenie
With a total of 620 monthly searches, the queen's granddaughter Princess Eugenie came fifth for the most iconic royal jewellery.
Princess Eugenie's engagement ring
The princesses engagement ring features a rare sapphire stone that is rarer than a traditional diamond. The 3-carat oval-cut padparadscha sapphire emulates a stunning pinkish-orange hue and is haloed by a ring of 10 brilliant-cut diamonds and two pear cut diamonds to accentuate the colour of the central stone.
The massive ring is set in a yellow gold band with metal around the diamond being platinum.
Price tag: £75,000

9. Princess Anne
The second child of Queen Elizabeth II, Princess Anne came sixth with 430 monthly searches of her jewellery collection.
Princess Anne's engagement ring
The princess' engagement ring was the British public's favourite of her collection. From her first engagement, the princess' ring was remarkably similar to the one she wears from her current husband Sir Timothy Laurence, suggesting she has a clear taste for the finer things. The Welsh gold ring was an eye-catching centre sapphire stone complemented with clear diamonds on the side.
Princess Anne's current engagement ring features an oval cabochon cut blue sapphire estimated to be worth around 3 carats, surrounded by 3 small diamonds totalling around 0.2 carats set in Welsh yellow gold. This style of ring was the first of its kind seen in the royal family.
Price tag: £20,000

Top 5 iconic jewels of the British royal family
Here, we take a look at other famed pieces of jewellery that have been inherited by monarchs.
1. Imperial State Crown
The 3,025 carat Imperial State Crown, a part of the Crown Jewels of the United Kingdom, is only worn by the living monarch at that time. The current version of this crown was made in 1937 for the coronation of King George VI and is comprised of:
An openwork gold frame
317-carat cushion-shaped diamond (Cullinan II, also known as the Second Star of Africa)
104-carat large oval sapphire (Stuart Sapphire)
170-carat cabochon red spinel (Black Prince's Ruby)
2868 diamonds in table, rose, and brilliant-cut
17 sapphires
11 emeralds
269 pearls
Price tag: Between £3-5 billion
2. Nizam of Hyderabad Necklace
One of the most expensive pieces of jewellery is the queen's Nizam of Hyderabad Necklace, which she was gifted to her for her wedding in 1947 by the monarch of the Hyderabad State in south India. The necklace was made by Cartier in 1935, featuring over 50 emerald and pear-shaped diamonds worth over 2,000 carats.
The intricate detail allows the wearer to remove pieces to wear as brooches.
Price tag: £66.3 million

3. Anthemion tiara
Sophie's first royal jewel was the Anthemion tiara from Her Majesty's jewellery collection which she wore for her wedding in 1999. While it hasn't been confirmed, it is believed that this was created from Queen Victoria's Regal Circlet, featuring five matching aquamarine stones, each estimated to be worth about 10 carats. Since her wedding day, Sophie has worn this tiara at many events, including European royal weddings.
Traditionally, tiaras are only to be worn by princesses on their wedding day or married women.
Price tag: £1 million

4. Cartier halo tiara
One of the most iconic tiaras in royal history, the Cartier Halo tiara is made up of 739 brilliant-cut diamonds and 149 baguette diamonds. The tiara was originally gifted by King George VI to his wife, who passed it down to Queen Elizabeth II on her 18th birthday. Since then, the tiara has been worn by Kate Middleton on her wedding day.
It is estimated that this tiara is worth 100 carats.
Price tag: £1.6 million

5. The State Diadem
This silver and gold diamond crown was made in 1920 for King George IV (Queen Victoria's uncle) coronation. The crown is set with 1,333 diamonds, including a four-carat pale yellow brilliant in the centre of the front cross in the openwork frame.
Price tag: £30 million