Soulmates of the World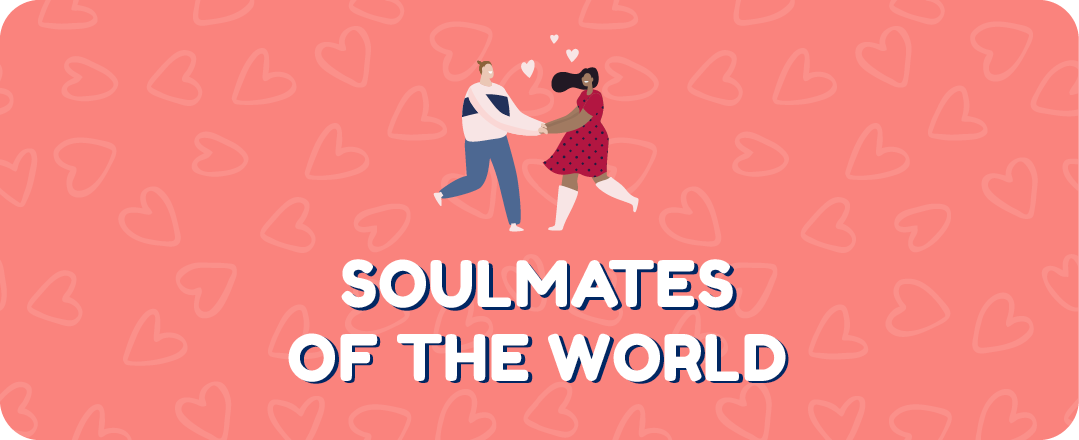 People are always looking for love. In fact, there are an average of 74 million searches for 'love' around the world every month. Here at Angelic Diamonds, we want to help people find their soulmate. If you're not sure where to meet people in your city and you're looking for 'the one', we may have the insights you need to meet your soulmate.
We scored cities all around the world on romantic metrics such as the number of singles, the number of online dating app downloads, and the number of searches for 'soulmate'. Scores were then added for the number of date spots, from nightlife such as bars, clubs and restaurants, to nature areas and parks for the outdoorsy, the number of classes and workshops where you might bond over a hobby, and the number of tea and coffee shops for the classic first date.
All of these scores were combined to get an overall Soulmate Score which revealed to us the top cities around the world where you might meet your soulmate!
Top 10 cities to meet your soulmate
1. New York City, United States
With over 125 million singles in the US and over 8 million people in New York City alone, it's easy to see why New York City is the hottest spot to meet your soulmate. NYC is well-known for its nightlife, but it stands out in our rankings for its green spaces and tea and coffee shops. Whether as a spot to go for your first date or a great setting for a meet-cute, New York is a must-visit destination to find your soulmate.
2. Mumbai, India
India is one of the most single countries in the world, with over 196 million singles in their over 1 billion population. Mumbai boasts an incredible number of bars, clubs and restaurants compared to any other romantic hotspot, meaning you're most likely to meet your soulmate by getting in amongst its roaring nightlife.
3. Tokyo, Japan
With an incredible population of over 37 million people, Tokyo is one of the most densely populated soulmate cities in the world. On top of that, over 9 million tourists visit Tokyo every year. Our data shows that they have the greatest number of tea and coffee shops, meaning caffeine lovers are much more likely to meet their soulmate while indulging in their favourite beverage.
4. Shanghai, China
Shanghai is a city overwhelmingly dominated by its nightlife. There are over 16,000 bars, clubs and restaurants in the city compared to parks, tea and coffee shops and workshops which total just over 1,000 combined. China has over 30 million singles, so as one of China's most densely populated cities, you have a high chance of finding love amongst the over 28 million population of Shanghai. Especially if you love good food and drink followed by a dance.
5. Beijing, China
If Shanghai's nightlife doesn't bring a soulmate your way, you may find success in Beijing. With over 21 million people living in the city and over 30 million singles in China, the odds speak for themselves. Beijing's nightlife isn't quite as impressive as Shanghai but bars, clubs and restaurants still dominate compared to parks, workshops and tea and coffee spots.
6. London, United Kingdom
England is known around the world for its tea-drinking culture, so it may come as no surprise that the number of tea and coffee shops vastly outweigh any other romantic hotspot in London. There are nearly 4,000 places to drink tea and coffee compared to a far smaller number of bars, clubs, restaurants, parks and workshops available in the city. London has a population of over 9 million people with over 19 million international visitors each year, so those searching for their soulmate might find love in their local London coffeeshop.
7. Delhi, India
The second Indian city on our list, Delhi has an even greater population than Mumbai, though it doesn't quite outdo them for nightlife. The over 32 million people of Delhi have more than 12,000 bars, clubs and restaurants at their disposal, and chances are that you'll be successful in finding your soulmate in one of these locations. Signs indicate that India is a country looking for love – over 47 million dating app downloads, over 5000 'soulmate' based searches per month, and over 196 million singles.
8. Mexico City, Mexico
Despite having over 35 million singles, Mexico's population is hoping to find love with more than 6 million online dating app downloads and nearly 10,000 monthly searches for 'soulmate'. Mexico City has a thriving population of over 22 million people and 11 million plus tourists each year passing through. They have a comparably low number of soulmate hotspots to other cities around the globe, but their nightlife is where the party's at.
9. Paris, France
Paris is famous for being the city of love and romance, yet there are still over 27 million singles in France! Despite this, there are a relatively low number of country-wide online dating app downloads compared to other cities around the world – roughly 7 million. Yet the data shows us clearly where those looking for love are likely to be. The image of drinking a coffee outside a cafe is synonymous with Parisian life, so it stands to reason that there are many more tea and coffee shops in Paris than any other soulmate hotspot.
10. São Paulo, Brazil
Last on our top ten list of best cities to meet your soulmate is São Paulo, Brazil. São Paulo has the highest number of bars, clubs and restaurants than any other city in our top 10 with over 26,000 nightlife soulmate hotspots. However, those who prefer a coffee to a cocktail are still able to enjoy one of nearly 2,000 coffee shops in São Brazil. There are an incredible 85 million singles in Brazil, and with over 22 million people in São Paulo alone, you're sure to find love while out on the town in this city.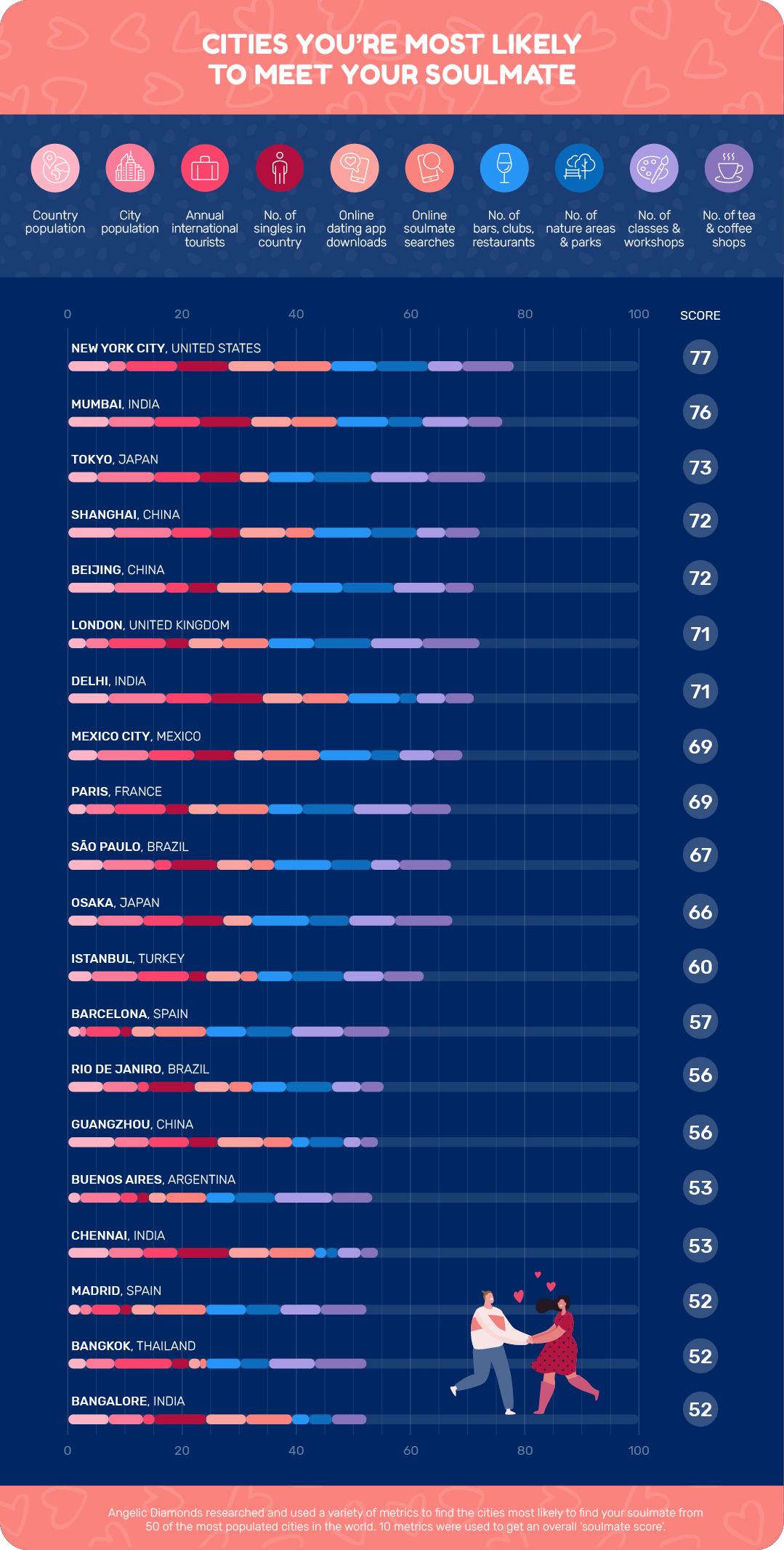 Osaka has the most dating hotspots
Japanese city Osaka has the most dating hotspots out of all of the cities we researched with 40,629, including bars, restaurants, clubs, nature areas and parks, classes and workshops, as well as tea and coffee shops. According to Insider, Japanese people prefer in-person dating as opposed to online, with there being fewer people using online dating apps. These locations are incredibly important in Japanese dating culture, making it easier to meet new people as well as having multiple options for a fun day out.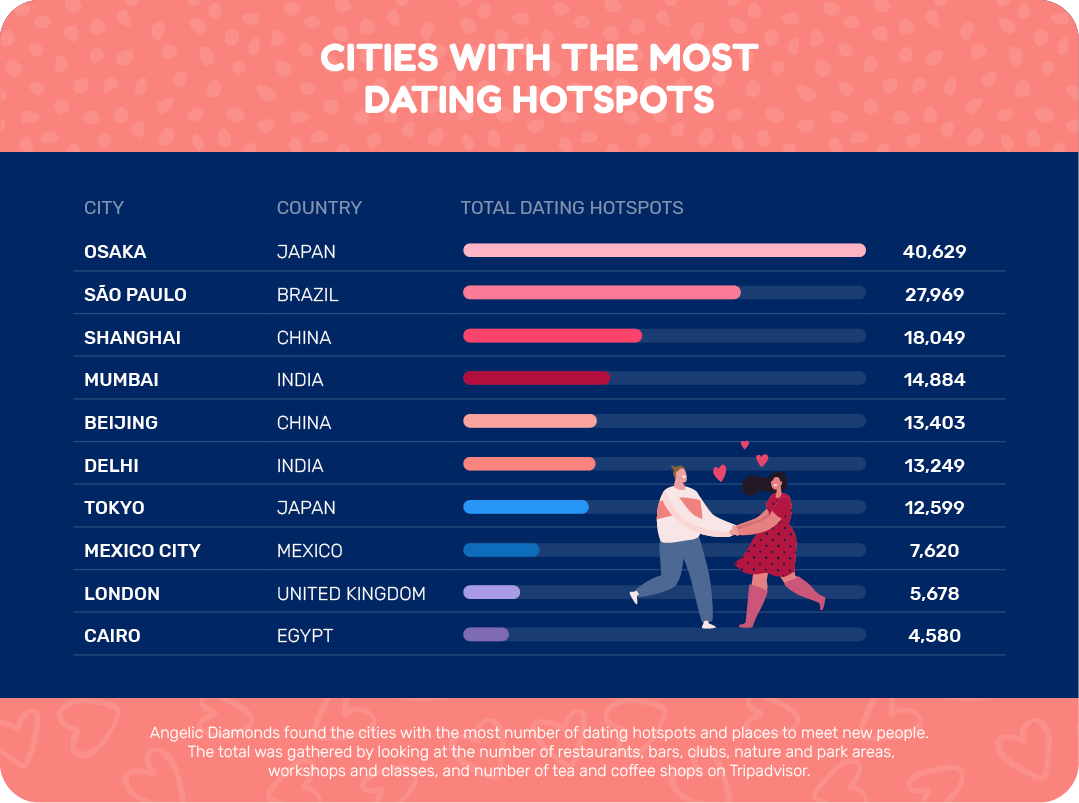 The United States has the most online soulmate searches
According to research by YouGov, over half (56%) of adults in the States believe in the idea of soulmates. So much so, that many are actively searching online for how to find their soulmate each month. The idea of 'the one' exists in many other cultures too, including Mexico, Spain, France, and India – all countries with cultural differences and attitudes to relationships. This shows that there are many people out there searching for how to find "the one" across the world.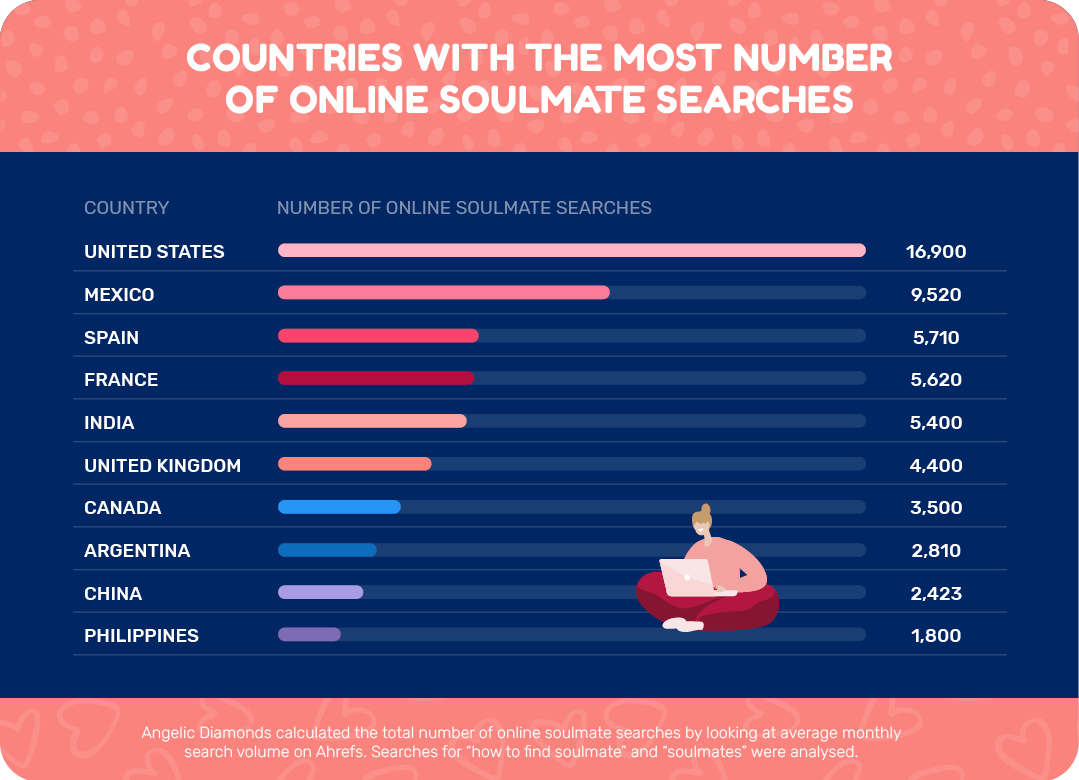 China has the most dating app downloads
There are 87.7 million dating app downloads in China, a country which has experienced a surge in online dating. In China, due to the one-child policy, there is a significant skewed sex ratio, which has given rise to online dating and matchmaking. China is closely followed by the United States and India – according to research, 45% of single Indians think that online dating is a normal way to date and find love. Especially since global lockdowns, more and more people are dating online than before COVID-19.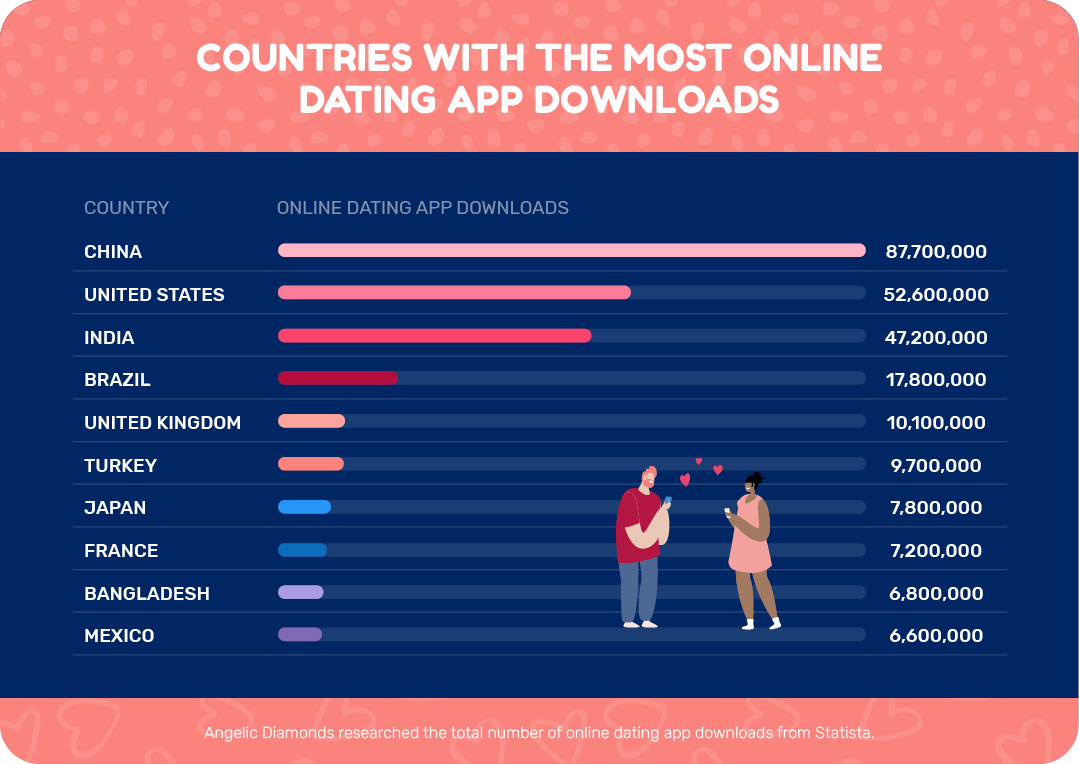 Hong Kong has the most international annual visitors
Many of us have had a holiday romance at some point – international tourism can lead to many social impacts, including dating and finding love. The more tourism a city has increases the chances of people meeting more and new people. Hong Kong has the most international travellers with 29.2 million people entering the country each year, followed by Bangkok and London.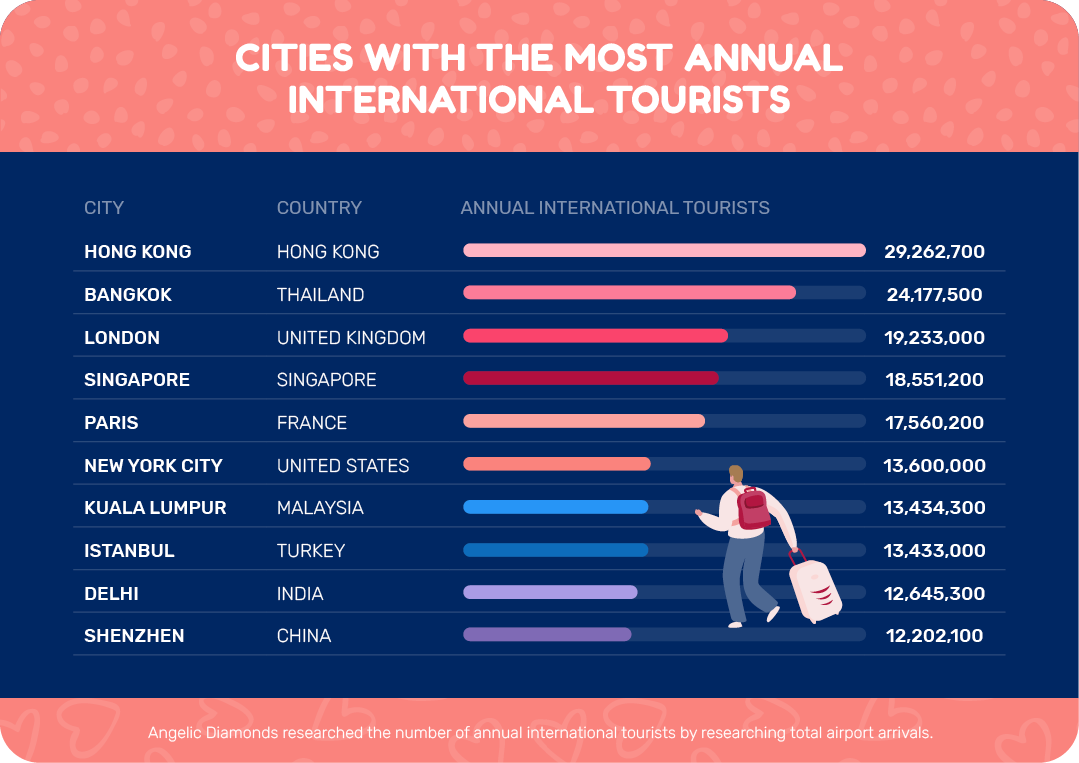 There are more singles in India than anywhere else in the world
India has the greatest number of singles in our research, meaning there are more people on the market looking to find love. The global single population has grown in comparison to previous decades – this doesn't necessarily mean that people are turning against relationships and marriages but more women are focusing on their careers and independence in the modern world before settling down. Because of this, people have longer to date and find the one before getting into relationships.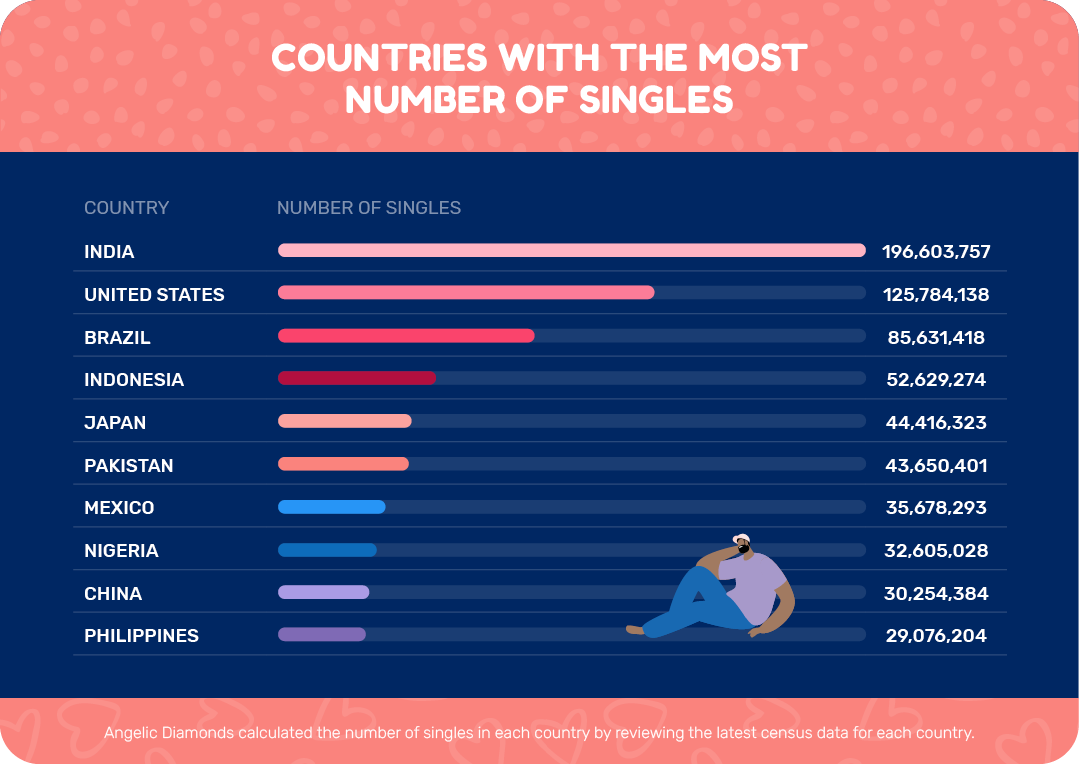 Methodology
To create the index, we used a variety of metrics to find the cities most likely to find your soulmate, including:
Population density
How many annual tourists each city has
Locations with the most singles
How many dating apps are used in each country
Online searches in each country around how to find your soulmate
Dating locations and places you're likely to meet new people (gathered from Tripadvisor, e.g. bars, restaurants, clubs, nature areas and parks, workshops, and tea and coffee shops)
We applied these metrics to 50 of the most populated countries in the world, removing those where data wasn't available. We were unable to find search volumes on soulmates for China, so we calculated the average based on other country's results.
To find the highest and lowest figures in each category, points were distributed in order of the results. The highest figures were given 50 points, while the lowest were given one point. The 10 categories were then divided by 5 to get a rounded total score out of 100.