Diamond colour refers to the lack of colour present in the diamond, therefore its whiteness.
Colour appears in a diamond as a pale yellow or brown. This is because of the presence of nitrogen when the diamond is formed.
A grading scale from D to Z is used to grade the lack of colour in a diamond.
Diamonds with a higher colour grade are rarer and more valuable than a diamond with a lower colour grade.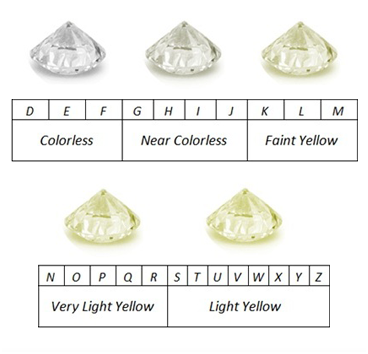 This scale was created by the Gemmological Institute of America (GIA). GIA are one of the largest and most respected diamond grading labs in the world. Their Colour scale is also the most universally accepted.
We offer diamonds with a grading of D to H. Diamonds with a colour grade of D – F will be white/colourless diamonds. There is very little difference between colours D, E and F and those differences are usually only visible to a professional gemmologist but the grade does affect the value of the diamond.
Colours G to H will both have a slight hint of yellow to the diamond. That hint of yellow is difficult to see without comparing the diamond, side by side, with a whiter diamond.